Hi! I'm Samantha Andrews—a
designer

and

software

developer

making art, websites, zines, and stickers in New Mexico.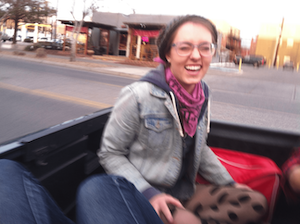 Struggling with burnout? Sign up for
Gradient Mesh

—a free monthly newsletter for multi-passionate people who want to build a centered and spacious creative practice and prioritize work that matters.


---
My work focuses on closely examining the self and its relationship with technology, collecting and archiving digital memorabilia, and encouraging myself and others to slow down and make art.
I am compelled by the ways in which we use design and technology to write poetry, deepen our capacity for empathy, and strengthen local communities.
I see life as a practice. I'm currently practicing keeping promises to myself, doing cartwheels (badly), and identifying birds. I try not to take myself too seriously.
Previously, I taught computer programming to girls ages 11-18 with Girls Who Code and built geospatial web applications with Descartes Labs.
Now, I work as a frontend software engineer at the New York Public Library.
---
Recent writing